Who is Banzi
About Us
Banzi is committed to providing the most creative décor with the best service. We will work with you to create picture-perfect designs to match your needs and budget.
The Owners
Brian & Christina Getz
They combined their businesses and named the new company "Pretty Funny Balloons" because she's pretty and he's funny.
Brian and Christina Getz met at a convention for balloon artists and have been working together ever since. They both started out by twisting balloons and entertaining at restaurants and events. In 2016, they got married in the world's best balloon wedding. (Christina wore a balloon wedding dress.) They combined their businesses and named the new company "Pretty Funny Balloons" because she's pretty and he's funny. In 2020, at the height of the pandemic, Brian and Christina purchased Banzi Balloons from its founders and worked quickly through the recovery to hire staff, build their stock, train a team and build it into what it is today.
Brian and Christina work pretty long hours as the CEO and Production Manager respectively. Their baby daughter, Anastasia, practically lives at the studio with them and loves the attention from all the crew. When the family isn't at work, they live in a 100-year-old renovated general store just a mile away where they raise chickens, 2 dogs, and 3 cats. Christina loves relaxing with a good movie, spending time with family, and playing board games. Brian is a huge nerd who loves space science, woodworking and tabletop role-playing games.
Indiana's Largest
The Company
Banzi Balloons is Indiana's largest balloon décor company.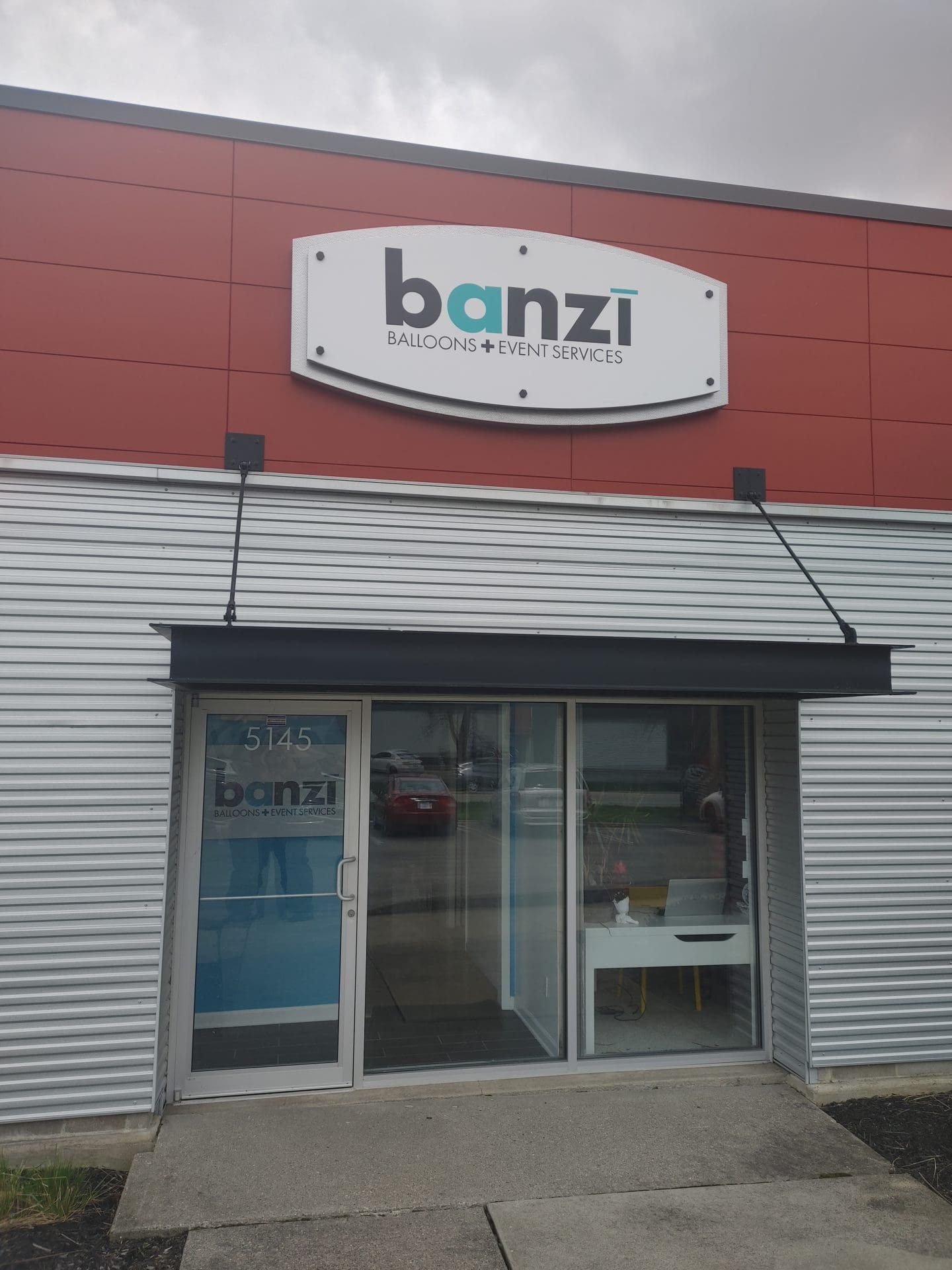 With two decades of balloon experience, we bring our expertise in balloon twisting along with classic and organic styles of balloon décor to create decorations for any event. We've created balloons for Indy's largest corporations, television shows, sports teams and even broken a Guinness World Record for the largest balloon sculpture in the world.
We are committed to being more than just a company, but a great place to work. Our crew are paid a living wage (minimum $16.) We believe in inclusive employment and creating an environment where our crew can thrive through flexible scheduling, hybrid work-from-home hours, accommodations for physical disabilities, etc. This has allowed us to hire a diverse and talented workforce who might not fit in elsewhere. We also offer a $1,000 scholarship match for employees seeking higher education and look forward to welcome interns from Indiana School for the Blind each summer.
Life of the Company
The Crew
The production crew are the life of the company. They see each order through from inflation to completion.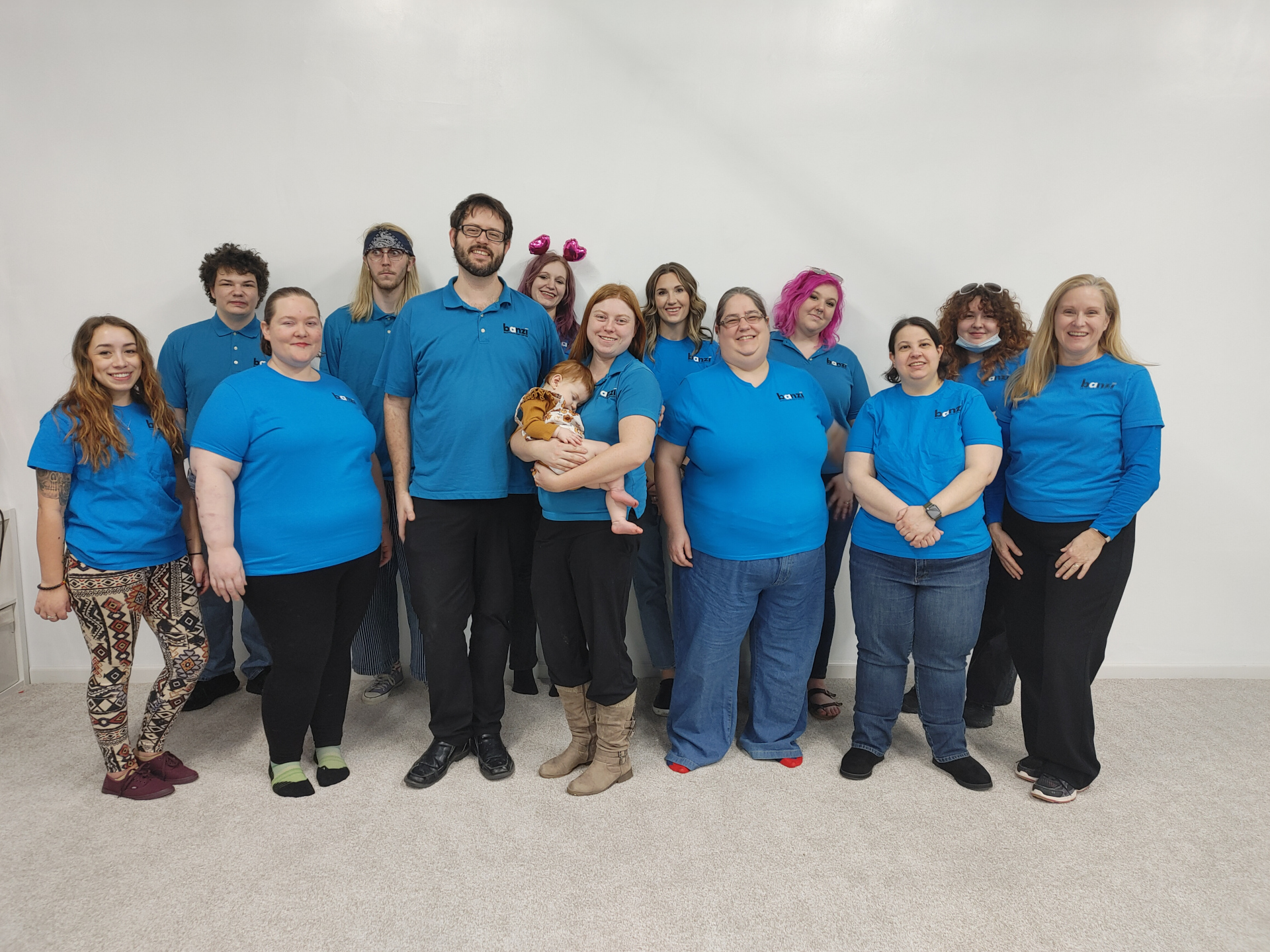 We begin inflation on Monday of each week, getting the air-filled orders prepared. By Wednesday we are creating garlands and assembling columns. We add tiny balloons to the garlands and inflate helium balloons closer to the event date. Our whole warehouse is often filled with balloons by Friday morning. When the weekend hits, our installation crew loads up our 3 delivery vans and installs decorations all over central Indiana. By the time it's all set up, we're ready to start inflating for the next week.
In January of 2022 we moved into our huge new studio. It is truly a dream come true, having enough space to create anything we can imagine.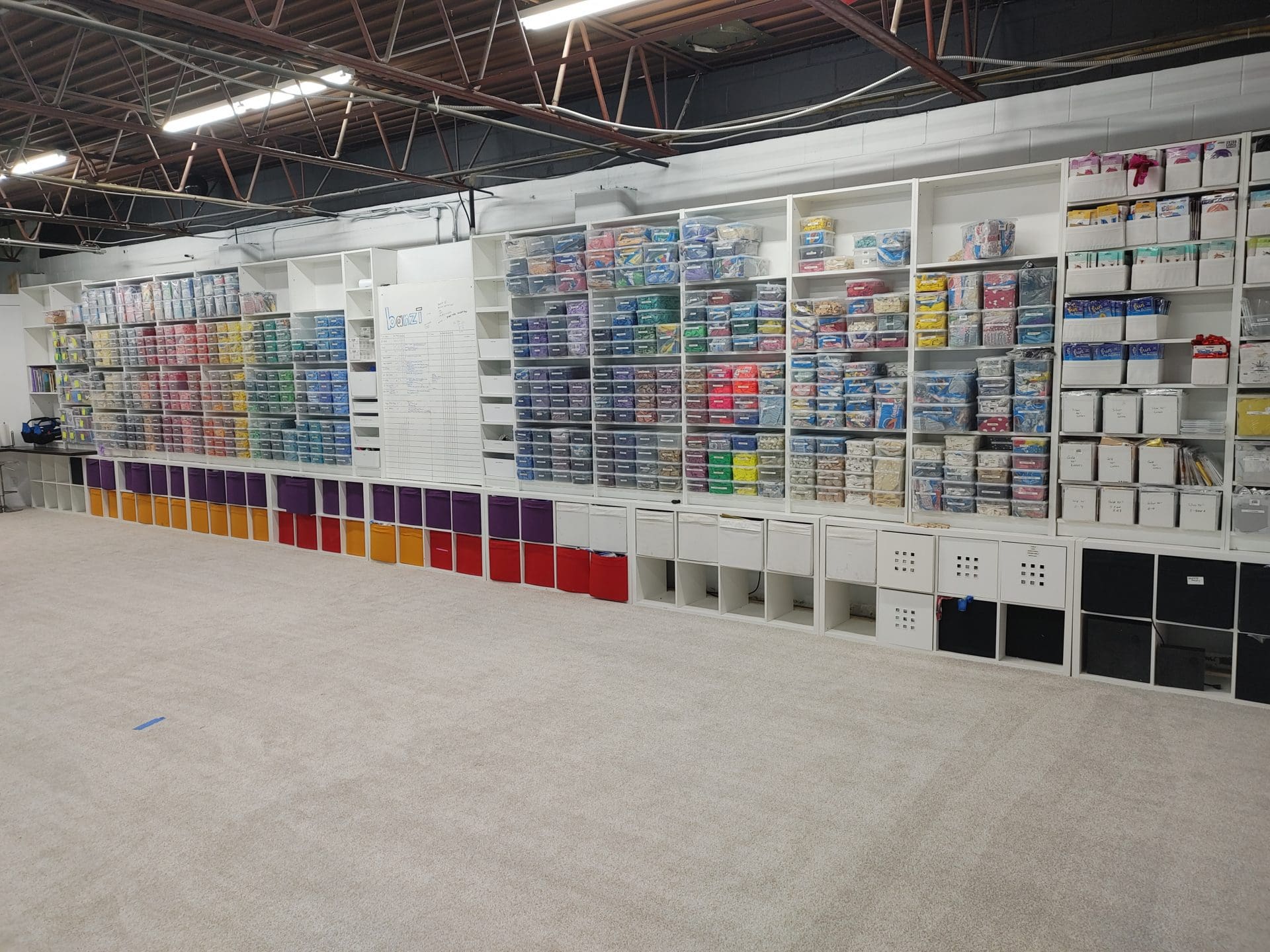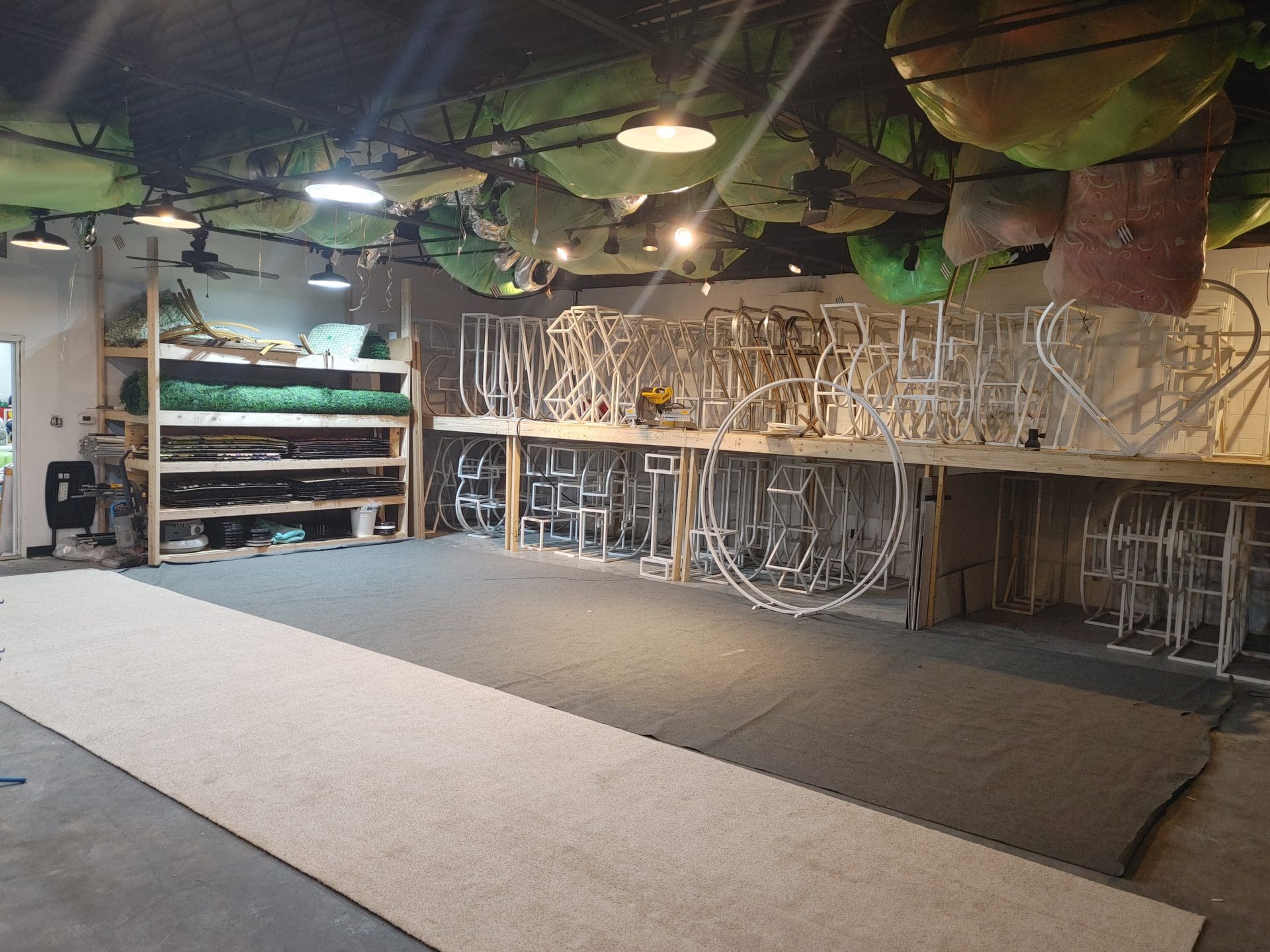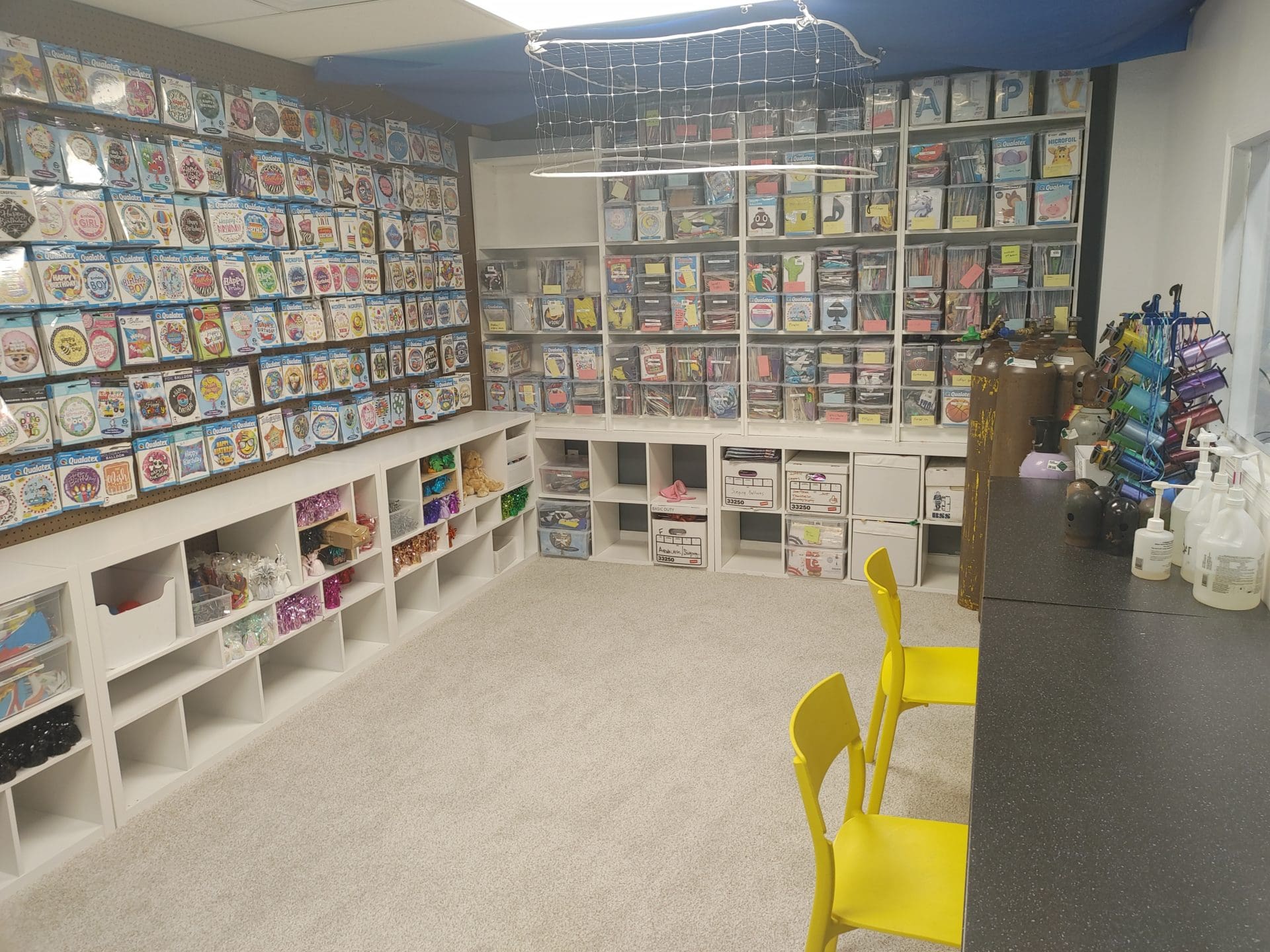 We have over half a million balloons in stock, including Indiana's largest selection of foil balloons. There's a large production room, helium inflation room, garage full of frames and backdrops, two offices, a kitchenette, and even a little nursery for Anastasia.
We're open every weekday from 10am to 6pm and we'd love to show you around. We are also available during the weekend for pickups by appointment.